You may want to change your Twitter handle because of rebranding, you want to resemble the username more with yourself, or for other reasons. Twitter is a microblogging platform that is growing at a fast pace.
Many brands are using Twitter to communicate and engage with users to promote their brand awareness. In fact, according to statistics from Statista around 75% of business to business (B2B) use Twitter for their marketing. If you use Twitter for your brand or just for hanging out with friends and family having a good username is a must.
Do note that the username and profile name both are different. The profile name is the display name and can be the same as other users on Twitter. On the other hand, a username is a unique id only you have. A username can be anything from your real name to a random number & word combination. The username starts with the "@" sign.
Usernames containing words such as "Admin" and "Twitter" can not be claimed (Twitter does not allow these words in username unless they are official Twitter accounts).
Some insight to keep in mind before we show you how to change the Twitter handle. The username cannot be longer than 15 characters. A username can only contain alphanumeric characters (letters A-Z, numbers 0-9) with the exception of underscores. We would recommend you to keep your username short and simple and easily recognizable by users that it's you.
Also read: How to change your language on Facebook
Let us show you how you can change your Twitter handle/username.
How to change Twitter handle on the website?
To make changes to your account, first, you will have to login into your Twitter account by visiting here. Once you are logged in from your favorite browser, click on the More option on the left-hand side of your screen.
Now, a small menu will appear before you. From that menu, select the Settings and Privacy option.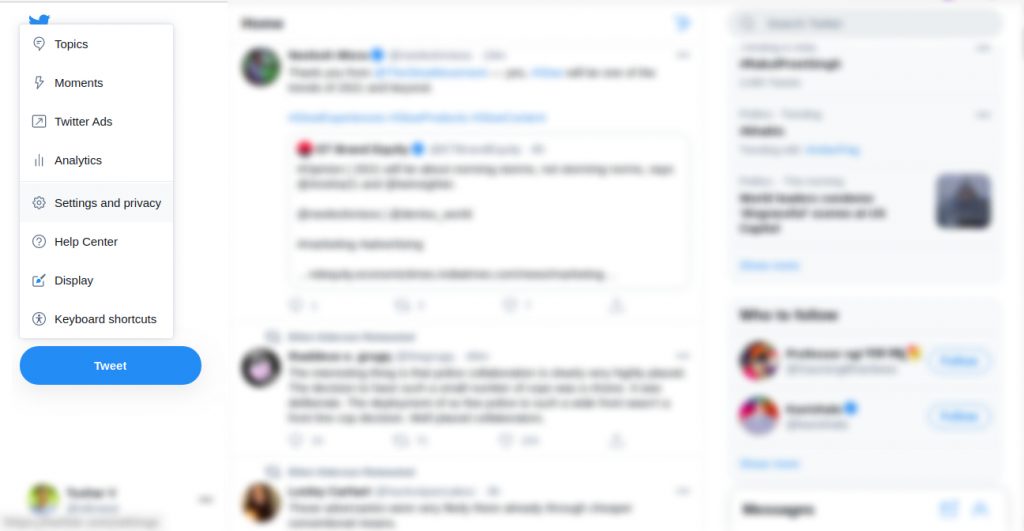 The next step is to click on Your Account and then the Account Information option or directly click here and take a shortcut.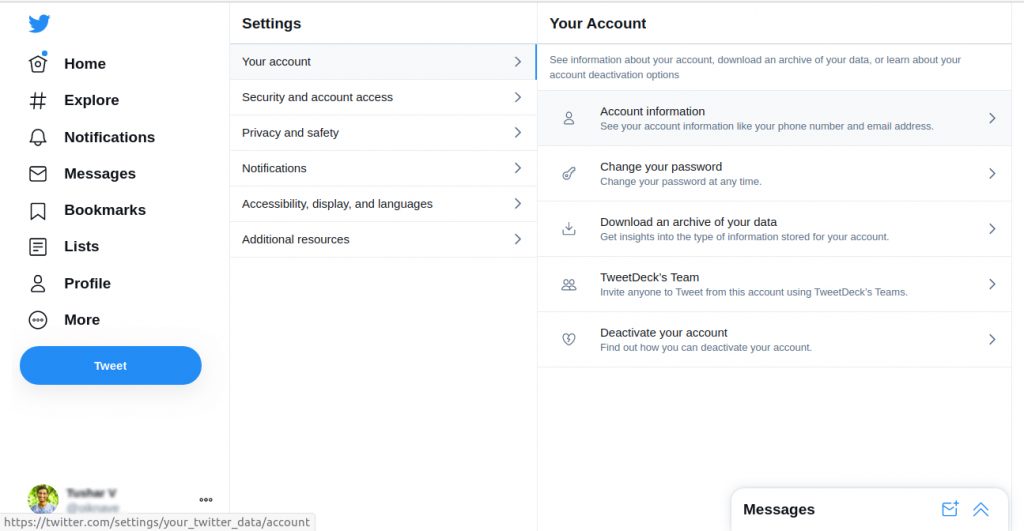 Before letting you change the details, Twitter will ask you to re-enter your password for confirmation.
After you submit the right password, click on the Username option at the top of the menu section. Now you can type in the username you want to use or go with the suggestions Twitter gives you. Once the username is entered, click on save to change the Twitter handle.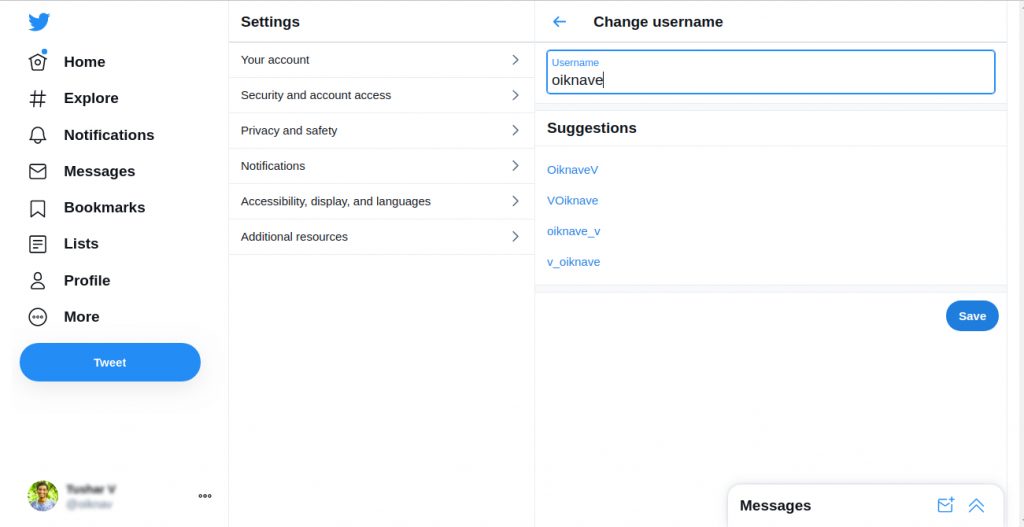 How to change the username on Twitter using Android and IOS
The following procedure is the same for both IOS and Android users.
The first step is to log in to your account on the Twitter app. Once logged in, tap on the Menu option (three parallel lines on Android and profile picture on IOS) on the top left side of your screen. Now choose the option Settings and Privacy from the menu sidebar.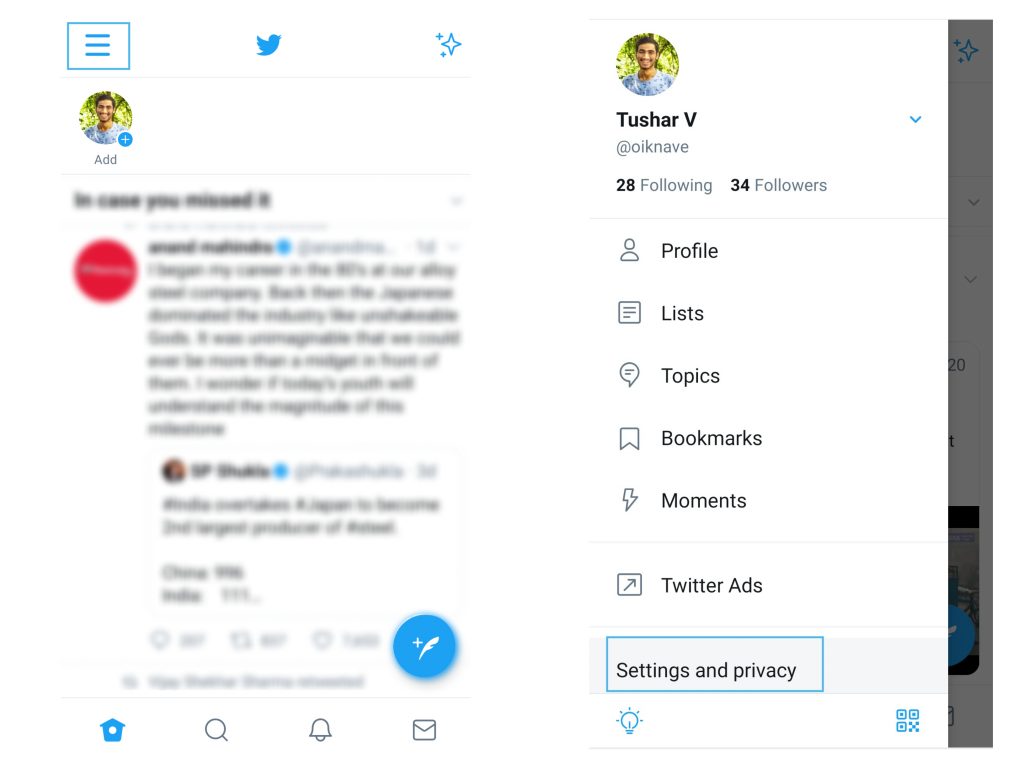 Tap on the Account option. Tap on the text field and type in the new username you want to change to. Once you have entered your desired username, tap on the Done option.
Congratulations!! You have successfully changed your username/handle on Twitter.
A few things to keep in mind once you change your username is that you will have to let your followers know that you have changed to a different Twitter handle and they can share and direct message you using the new Twitter handle. Important to note is that changing your username on Twitter does not affect your post or your followers count. It only changes the name on your profile. So rest assured on that.
The best part about Twitter is that it allows you to change your username unlimited times, unlike other social networks, which restrict the number of times you can change it. So this means you can change your Twitter handle every day if you want to 😉
We hope this blog has helped you find the answer to your query. If you want more such blogs, do allow push notification, so that next time we upload a blog you are notified about the same. Do share this blog with your friends and family. Chao 🙂