Today, we learn how to make a collage on Facebook. When you post photos from your phone's camera, Facebook provides an exciting automated collage tool. When you press the photos button, you'll see collages that have been automatically made depending on the location and time of your images. A photo collage for your Facebook account shows all of your favorite photos as one extensive collection of multiple images.
A photo collage is a fantastic way to combine two or more photos while also expressing your message in a single glance. You may utilize a Facebook photo collage to capture the essence of your most recent vacation while avoiding flooding your friends' newsfeeds.
You can read How to recover your Facebook account without an Email or Mobile number?
How to make a collage on Facebook using its built-in Tool?
Facebook has a Hidden built-in tool inside its application that can help users make beautiful collages on it directly without using any 3rd party applications.
Firstly, open your Facebook application and locate the Photos button under the Status options. It will then open your photo library, from where you can choose multiple images that you want to use to make a collage on Facebook.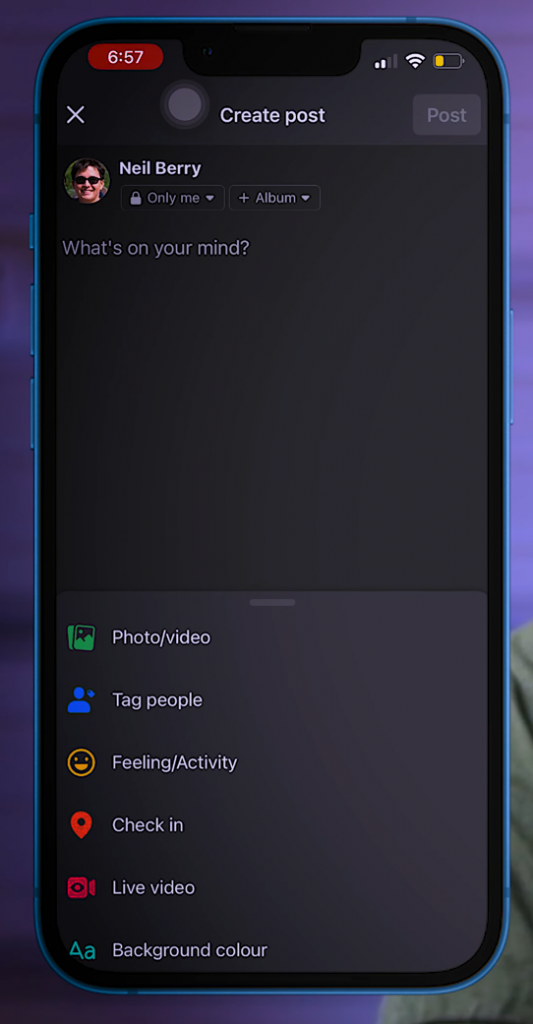 After choosing pictures, you have to choose the Layout of the collage. The Facebook application automatically builds templates according to the number of photos you have selected and displays various types of collage templates for the user to choose.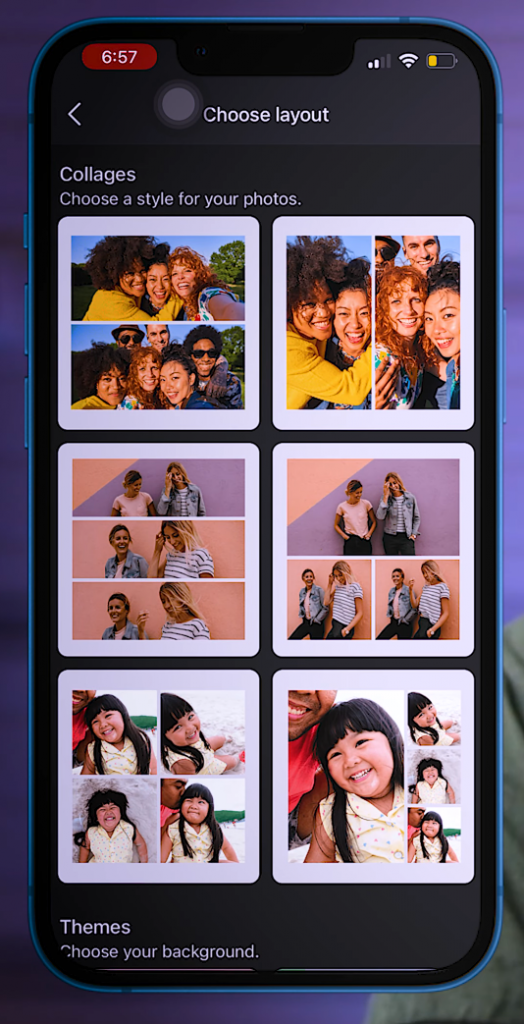 You can choose the best design or a theme you like for your collage to resonate more with your audience and press the next button. Facebook will preview the collage for you and help you edit and customize the collage. You can make the Final Edit and post it on your Facebook Profile.
How to make a collage using the Layout from Instagram Application
The new Instagram app provides a better method to compose collages. The Layout allows you to combine your images and share them with your friends to create a one-of-a-kind layout.
Layout's easy-to-use interface allows you total creative freedom. Mirror, flip, or replace images by pressing them, holding and rotating them, pinching to zoom in or out, or pulling the handles to resize them.
Download Layout- iOS / Android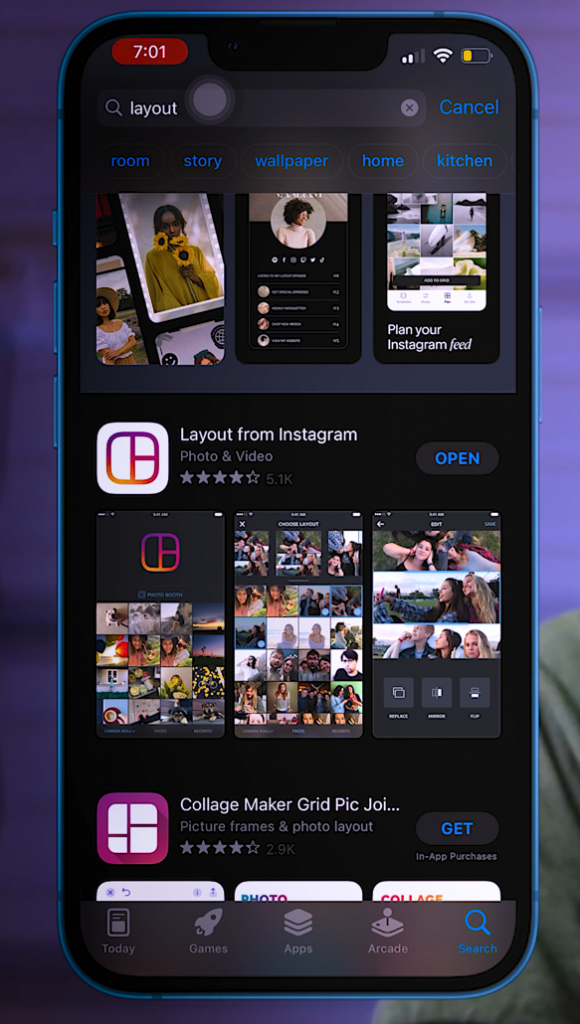 After downloading the Layout app, please open it and allow access to the photo library on your phone. As you begin to pick photos, a list of suggested custom layouts appears at the top of the screen. You may change the size of the layout previews at the top by moving the bar between the top and bottom areas of the screen.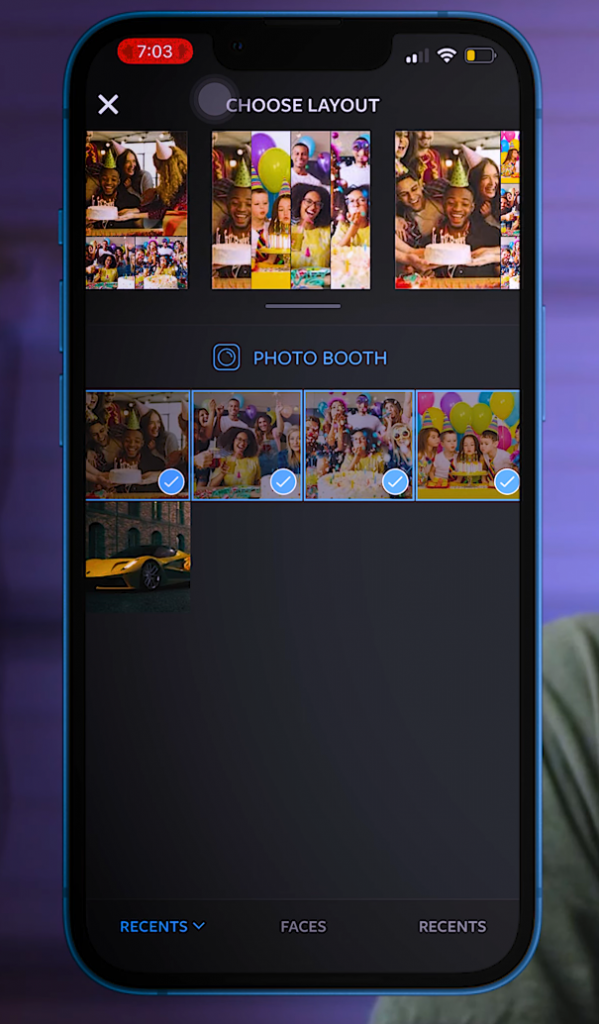 You can also sort via Recent photos or Faces, where the Layout app helps to sort out the faces of people in your photo library to help ease the photo selection process.
Press next, and now Layout will present you with a collage.
You have a lot of creative control in the Layout app, and there are many options that you can manually configure and fine-tune to suit your aesthetics.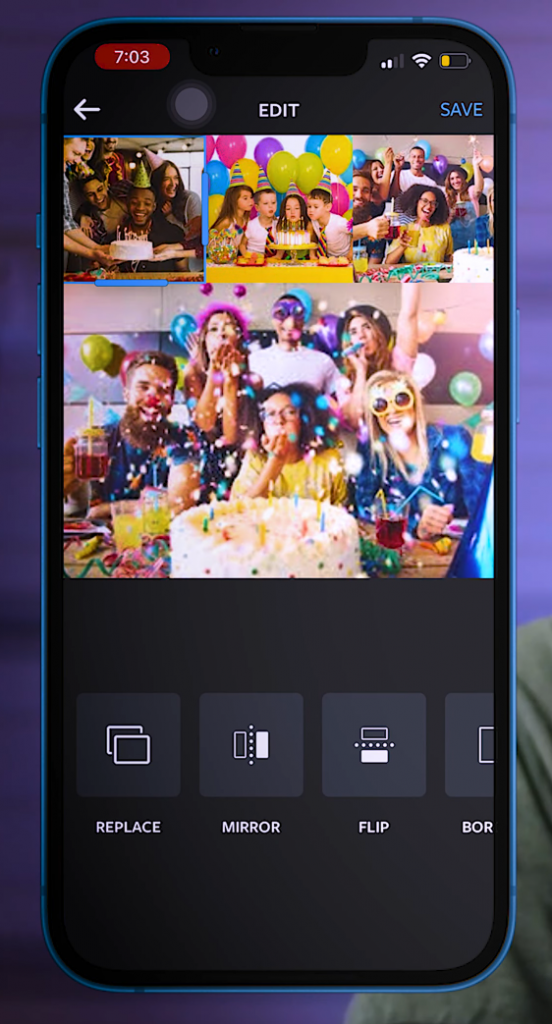 Because the general layout grid adjusts concerning the size of the individual picture you're resizing, increasing the size of one photo may impact the sizes of the surrounding photos. The Layout app can also adjust each photo's crop by dragging it inside the grid space it fills. You can also use the other buttons on the bottom to Replace, Mirror, or Flip your photos.
After saving the photo, you are presented with options to share your collage. You can share it on Instagram or Facebook, save it to your gallery to use later, or send it to a friend.
If you have any doubts, feel free to comment below and ask your queries. I hope you understand all the steps clearly, and now you can make a collage on Facebook and Instagram and share it with your friends or family.