A Facebook Group is a place for people to gather around, communicate, share common interests and express opinions about various topics and activities, ranging from solving a problem, organizing, sharing media, investigating, and much more. Anyone can create and manage a Facebook group, and an individual can join more than 6,000 Facebook groups.
Must Read: How to find single women on Facebook
Top facts about Facebook groups
Here are some quick bites on how Facebook Groups work:
Anyone user with a Facebook account can create a Facebook group.
Groups are often public for everyone to join or kept private until someone lets you in.
Your Facebook friends might get informed when you enter a particular group on Facebook.
Some groups are kept hidden and cannot be found through search. At the same time, the admin from that group has to invite you to join.
Exiting the group will not let other members get notified.
The power to invite a member is only withheld by the group creator or anyone who's made an admin of that group.
You can create, organize events, and upload media & files within the group.
Group can be deleted after removing all the existing members.
Group admins can make anyone Group experts & advisers who can help share credible information in the group and earn badges.
What is the difference between Facebook groups and pages?
Facebook groups are often considered small organizations where people gather and share information. At the same time, Facebook pages are used to promote specific niches or products that can be identified with your personal Facebook account.
Companies, celebrities, and brands now create these forums to keep the audience engaged for profit. Facebook groups can have more than one administrator, but Facebook pages have one administrator who can post the information and let people like and comment.
What are the types of Facebook groups?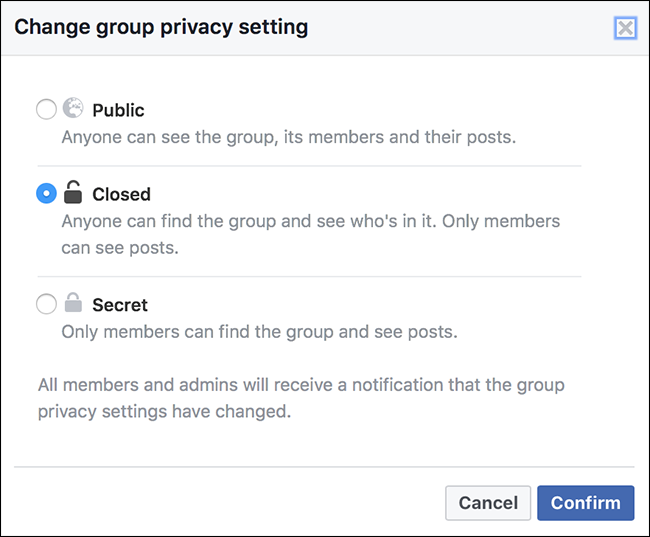 Closed Facebook Group
A closed Facebook group is more secure than a Page because the creator has an option to make it closed. When the group is closed, the content can be seen only by members who are part of the group.
However, all the shared information is kept closed from the Public; they can still see the group in the search list but won't be able to see the members and information they share unless invited.
Secret Facebook Group
Need even more privacy than the closed group? You can use the Secret group option. The Secret Group offers more privacy and safety; no one other than the group members can find out about the group.
The secret group is kept hidden from your profile, and only the members within the group can see the other members and their posts. The group can be used for a surprise event or for someone who wants a secure network to talk with friends.
Public Facebook Group
The third Facebook group setting you can find is to keep your group Public. This means anyone on Facebook can search and join the group using the search bar. You can post media after becoming a member of that respective group.