Meta shows increase in usage and revenue in first quarter (Q1) and has published their latest performance update showing the growth of the platforms. Also, their profit margins remain the same even though they are showing recovery in some elements. First off, on users, Facebook inched closer to a 3 billion user milestone. Thus, reaching 2.99 billion active users in Q1. As such, Meta saw a great performance in all markets. It is well-established in the US and is considered a positive endorsement. This is because of its new focus on highlighting more interesting content to the users in-stream, and rolling out new features. 
In a recent internal document, it was shown that Facebook has the highest user count with Reels. This is because Reels are so in demand, and it maximizes user engagement. But, as seen, the user-created content is declining, even though maximizing the time spent remains the key focus for Meta from a revenue perspective. This growth is also reflected in Facebook's daily active user stats.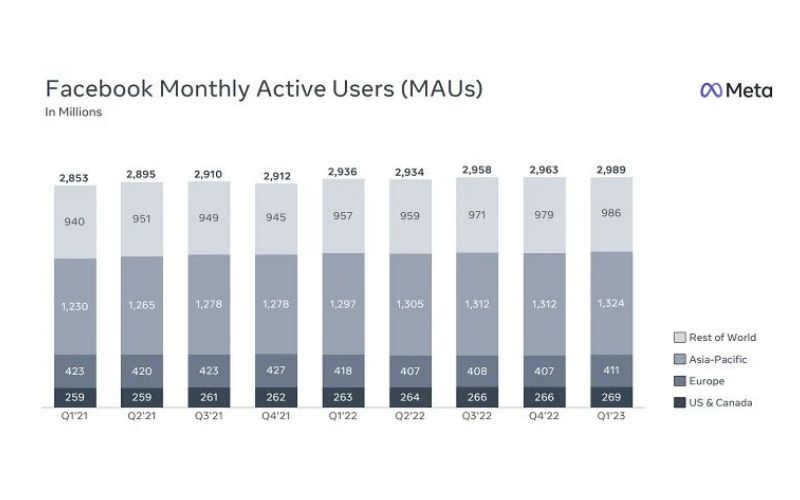 In the graph below, the percentage of Monthly Active Users or the MAU, which is the same as Daily Active Users or the DAU, is higher. This shows that more users are signing up and returning to Facebook repeatedly. This is also considered strong marketing of its AI recommendation. Facebook usage is driven by the recommended content in-stream – which will offer a great advertisement opportunity to marketers.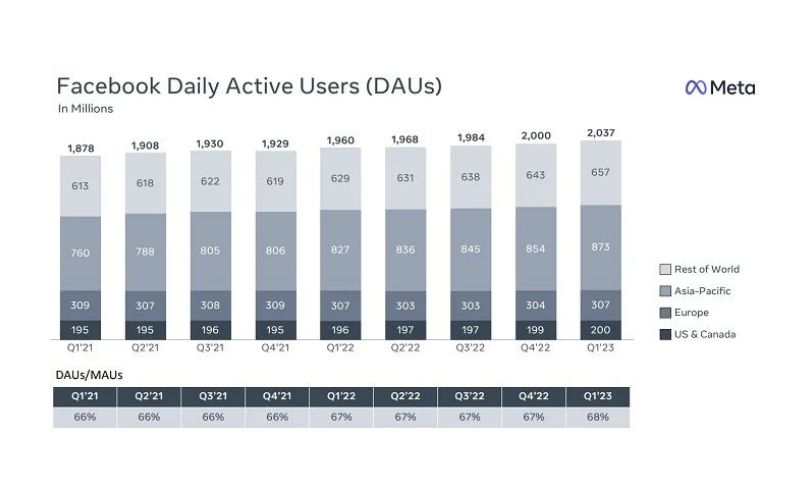 Considering the growth and engagement, Meta's performance remained strong over the year, bringing in more profit each year – which is 3% year-over-year. This is great news for investors. However, the chart given below is not good news. Meta's net income is not looking good. Some reasons include the payouts to staff who were paid after being fired. Also, it is due to the ongoing investment in VR. Reality Labs – Meta's VR division weighs most of the expenses. 
Regarding the AI element, various Facebook users and marketers have noted Meta's Advantage+ automation tools have yielded much better results over a long period. Meta's numbers make a point for future growth and will open up more opportunities in new markets; it is estimated that it remains open to big challenges.
Meta Shows Increase in Usage and Revenue
Meta is currently dealing with the most difficult period in its history. This is due to the global economic impacts and data tracking changes. Along with everything, it keeps negotiating rising backlash to the long-term vision of the metaverse. In addition, the company must keep spending money to keep up with the innovations, causing the company to squeeze costs. This has resulted in several layoffs. There will be more layoffs in the coming times, which will be good from the company's point of view. However, these layoffs can have a broader impact – and it is pronounced, as they will probably make Meta more vulnerable to competition.
Competition is the only thing driving Mark Zuckerberg to take the platform to the next level. Thus, Mark focuses on creating a VR environment – which would require a huge investment. However, the metaverse concept looks flimsy at this stage, and they shouldn't have gone into VR production right now. But that doesn't mean Mark is wrong. It continues to build new tools and processes to facilitate the next-level shift.
Meta has repeatedly informed the users and the investors that the process might not look good for some time, but eventually, it will come around. Also, once the VR project is done, Zuckerberg could be the tech wunderkind again. Even after undergoing severe expenditures – meta shows increase in usage and revenue in first quarter.