Facebook has been in news for its way of handling data and privacy. Users of the social media giant are more concerned about their privacy. Features like Who views your Facebook profile are still not available for the users.
Although other social media site such as LinkedIn does give you information on who views the profile for premium members. Sites like Facebook still does not provide the same. But there are always ways to look around, and here in this blog, we will share with you some ways that work 100% about who views your Facebook profile.
Also read: How to see who shared your post on Facebook
We have a video that can help you with the steps and the process. Watch it here:
We will be showing you some techniques to see the users but you will have to guess the users for that instance. It's not guaranteed that the user is the one who views your Facebook profile. That been said let's try to make a guess, by following the below steps.
There are few apps on the internet that claims that they can help you share the information of who views your Facebook profile, please don't install or use that app they might contain malware and may only be targeting you for your Facebook password to spam your friends through the Facebook timeline.
Manually find who views your Facebook profile(Tested)
For this method, you will require a desktop. This process is somewhat time-consuming, but the results are worth it. Follow these simple steps and you will be amazed at the results.
Login to your Facebook account. Go to your profile page (click on your name on the top right corner of the website).
Once the Profile timeline is fully loaded right-click and select View page source. Or use command CTRL+U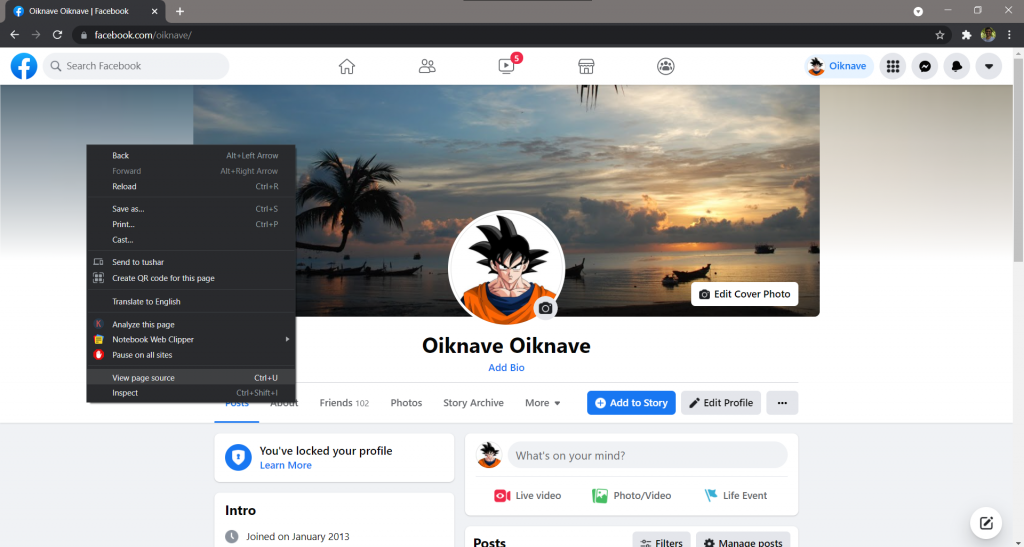 Now a new tab will open, there type in this command CTRL+F which will open a search bar.
Type in this keyword in there buddy_id. This will highlight buddy_is in yellow.
Now you can see a 15 digit number (profile id) next to the buddy id. This profile id is the identification number of the user who viewed your profile.
You will find many profile id's on the view source code page. Now copy anyone profile id and paste it as "facebook.com/123456789589604}" on a new tab. You will be amazed to see the result.
Alternatively, you can simply view the name on the same line as of profile id in the code.
The first profile id will be of the user who views your Facebook profile the most.
Check using a Chrome Extension
There are some chrome extensions you can try to install on your browser. These extensions work sometimes and sometimes they do not. They try the same thing we did above finding through Facebook profile id. If you are curious to know you can search for social profile viewer extensions and install the ones you feel most comfortable with.
Although we don't recommend you to install third-party apps and extensions, some chrome plugins may work fine. For Ios, there is an app known as "Social fans" which can help you check for details on who views your Facebook profile.
Another short method you can try is to go to your friend list you find all the friends list in it. You may have noticed that it does not show you the list in alphabetical order. The top 10 to 20 friends in this list are the people with whom you have the most frequent interactions, which means that they most likely visit your profile more often than other people.
These are just assumptions and not been proofed fully. Facebook denies for this feature to be implemented, and there are fake apps on the web which claims they can show you the results. You can report them on Facebook and delink your account with any third-party apps you don't trust from Facebook settings.
In this blog, we have tried to show you a way that works. If you have something that can be used to know who viewed your profile on Facebook do let us know in the comments below.
Until next time,
Chao:)