Want to know how to tag someone on Facebook?
Tagging is one of the essential parts of being in any social community. If you ever went to a social gathering or a trip with friends, you've clicked a bunch of photos, and now you'd like to post it on social media and let that friend or group of friends know they're also in those photos, tagging is the best way to do the same!
To tag someone on Facebook is to keep a record of your and your friend's connection on social media. Tagging also provides a link for people to explore the person's profile you've tagged.
In this article, let's explore the three fundamental ways to tag someone on Facebook, keeping in mind your friend's privacy settings that might affect how you tag.
Did you know?
You can tag maximum 50 people on your photos on Facebook!

Facebook
Also Read: Facebook Monetization in 2023 – The Whats' and Hows'
How to tag someone on Facebook through comments and statuses?
When you post a status update on Facebook, you can tag that particular friend by typing an '@' symbol in a text message section. When you type '@,' a new window with a list of your friends will appear below the text, you can either keep typing your friend's username or select it from the list.
Find and select the name from the list and click Enter. The username tagged in the status or comment will be highlighted in blue color. Doing so will successfully tag them on Facebook.
Along with friends from your friends' list, you can also tag people with business accounts, group members, friends of friends, etc. You can follow the same method to tag other people on Facebook.
Before doing so, stay aware of the privacy policies set by the people you tag on Facebook, as tagging them will also notify them about your post.
How to tag someone on Facebook you were with?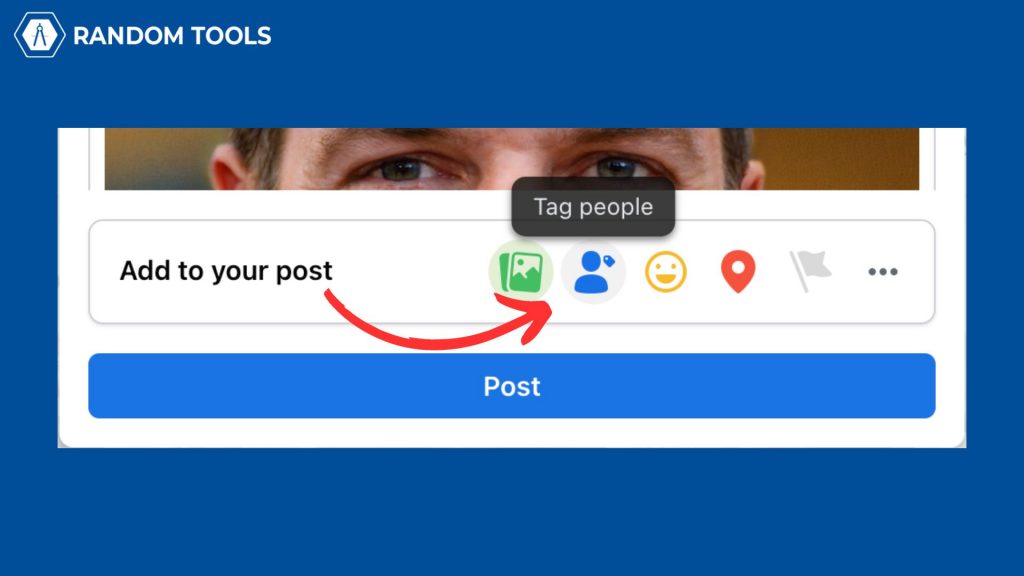 Facebook allows you to include more features in your posts, such as feelings, location, check-in, etc. One of these options is to mention friends you were with at an event and a photo.
To tag friends you were with, click the Tag friends option (a blue person silhouette icon) with a tag next to it. You can also include a search box to enter your friend's username. Use the box to have one or more friends and tag them.
Note: You can only tag people who're your friends using this technique since you're claiming to be with them in photos.
Click Done when you're done, and you can see a new list with your name and friends' names on the top of your status. Now just like the first technique, this also allows your friends to see the post you've tagged them.
How to tag someone on Facebook photos?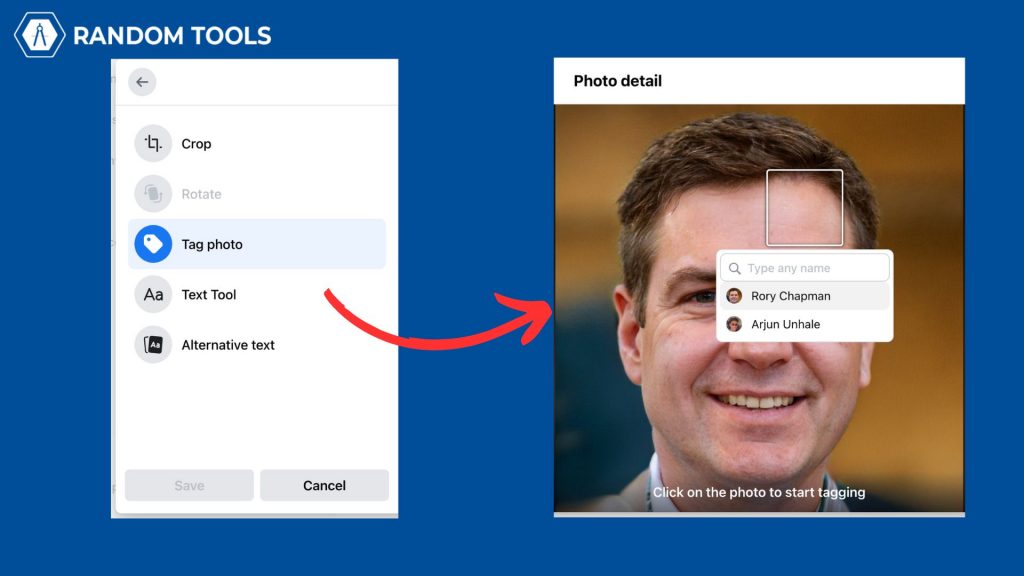 Tagging someone on Facebook photos will allow them to add their name to a With section in that photo's description. You can also identify them by simply moving your cursor along their faces.
Whereas the Photos of you section will contain people you've tagged in your Facebook photos.
If you want to tag an already posted picture on Facebook, open that particular image and click the Tag icon on the top right corner of your screen and click on the face you want to tag. You can now enter your friend's name or their friends and pages as well.
If the profile you've tagged is private, you can still do the same until the owner approves the tag manually. If they've disabled the tag option altogether, you might not see it while tagging.
Want to tag your own photo while uploading it? Click Edit on the top-left of the image and select Tag photo from the left side. Now go ahead with the same steps and enter names.
Conclusion
All three methods are viable for tagging someone on Facebook. You can use the @username method anywhere you want to highlight a friend or bring their attention to your posts. You can share links to public posts whenever you want them to see it on Facebook.