How to make your Facebook private:
Facebook is something we all love. It is an awesome tool that binds each and everyone in a single thread. Facebook helps you stay in touch with old friends, school buddies, or loving cousins; you miss badly.
With digital freedom, this tool keeps you updated with what your friends, family members, and relatives are up to.
But, with freedom comes the responsibility to keep your data and information security. Although Facebook makes regular advancements to make things easy, there is a lot you can do to safeguard your profile.
The users can even make changes to the privacy settings – to share stuff with friends, everyone, or keep it private.
Well, if you wonder how do I make my Facebook private, here is a step-by-step guide to making this process simple for you.
Stepwise Guide to Make Facebook Private
From the first day, Facebook has come a long way to make it user-friendly and a marvelous place to spend quality time.
Also, there have been some astounding modifications in privacy and security, as we all share some private stuff on the platform too. From keeping our data private to following better security norms, there are a lot of changes being done to avoid any troubles.
To keep your precious information safe, here we prepare the stepwise guide to make Facebook private.
Step 1: Log in to Facebook
To change privacy settings, first, you need to log in to the account. The privacy changes are done from the home page only.
Click on the downward pointing triangle from the home screen, which is present on the upper right side.
This pointing triangle will open a dropdown menu with various options, including Create Page, Activity Log, Create Group, Settings, Logout, Help, and more.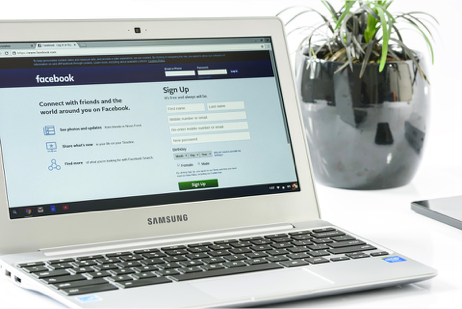 Step 2:Click on Settings
Click on the Settings option from that menu. Another page will open, with multiple options to alter the settings in your account.
On the left side, there will be a menu, choose the Privacy option, which will take you to Privacy Settings and Tools.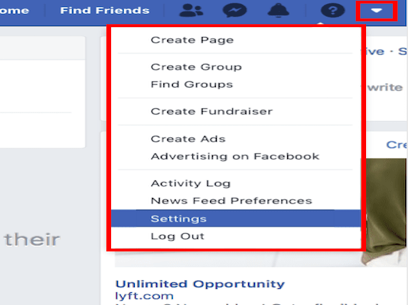 Step 3: Choose the Setting to Change
On the Privacy Settings and Tools page, there are different questions asked to make changes to the privacy settings.
Some of the questions you will see on the screen are:
Who can see my stuff?

Who can contact me?

Who can look me up?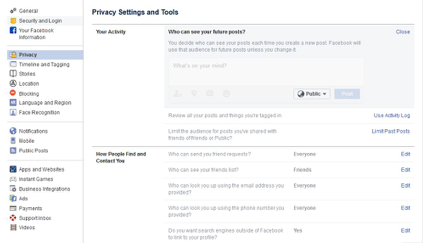 Step 4: Change Privacy Settings
From this page, you can make changes to your future posts, previous posts, friends list, search options, and more.
In Privacy Settings and Tools, you can change all the privacy settings. Let's discuss the questions one by one to make privacy changes.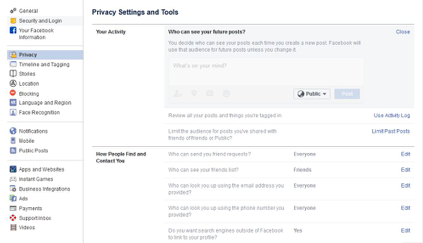 Who can see your future posts?
To make your future posts private, you can make changes from this option. There is a blue button with four selections –
Public (anyone on the Facebook can see your posts)

Friends (Only your friends can see the posts)

Only Me (to make posts private)

Custom (to customize the posts individually)
You can choose Only Me option to make your future posts private under this option.
Limit the Audience for Previous Posts
Just like future posts, you can make your previous posts private too. This action cannot be undone. So, make these privacy settings only when you mean it.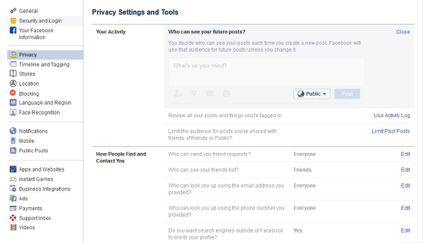 Who can contact me? or Who can send you Friend Requests?
This feature gives you the permission to block the users from sending you the friend request or say contact you.
There are two options under this button –
Everyone – Anyone on the Facebook can send you the friend request

Friends of Friends – Only your friends of friends can contact you
People on Facebook can search you through email addresses as well. You can make changes to this option as well.
These are the options you get in this menu:
Everyone

Friends of Friends

Friends
You can also do this with your phone number, date of birth, work and education, friends list, and more.